Department For Work And Pensions: Responding To Change In Jobcentres
HC 136, Fifth Report Of Session 2013-14 - Report, Together with Formal Minutes, Oral and Written Evidence
Author:

House of Commons - Committee of Public Accounts

Publisher:

TSO (The Stationery Office)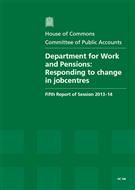 Add to Basket
The number of people who stop claiming benefits is a flawed measure of how effective jobcentres are, and the Department for Work and Pensions (DWP) needs to be clear how it will measure the performance of jobcentres under Universal Credit, and understand what happens to claimants; 'Department For Work And Pensions: Responding To Change In Jobcentres (HC 136)' examines what information the DWP need, to see whether its interventions are achieving a long-term reduction in the number claiming benefits.
At present, 40% of individuals reclaim benefit within 6 months, with 60% reclaiming within 2 years. Claimants who don't look for work should face consequences, but there is a risk that sanctions unfairly penalize the most vulnerable claimants, particularly those with mental health problems.
The DWP needs to look closely at its ability to support disabled claimants, particularly given that these groups suffer poor outcomes under the Work Programme. Jobcentres will have to cater for new claimant groups as a consequence of the introduction of Universal Credit.
People will also increasingly manage benefit claims and job searches online. Some claimants will inevitably struggle, which will increase the burden on third parties such as libraries and Citizens Advice, which are themselves under severe pressure.
The Committee recommends that information on how jobcentres are managing their caseloads should be recorded, so that good practice can be identified and disseminated.
Find similar publications here: