Child Sexual Exploitation And The Response To Localised Grooming
HC 68-I, Second Report of Session 2013-14 - Volume I: Report, Together with Formal Minutes
Author:

House of Commons - Home Affairs Committee

Publisher:

TSO (The Stationery Office)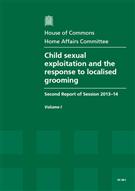 Add to Basket
The report 'Child Sexual Exploitation And The Response To Localised Grooming (HC 68-I)' examines the results of an inquiry into the sexual exploitation of children, and the failures of agencies appointed to protect them.
The quality of the response to instances of child sexual exploitation is often dependent on the area in which it occurs; the failures in these cases have been both systemic and cultural, with rules and guidelines not being followed. The Committee recommends that officials who fail to act must not be allowed to evade responsibility through early retirement or resignation for other reasons, and should not be paid compensation of any kind.
Suggested reforms to the court processes include:
section 28 of the Youth Justice and Criminal Evidence Act 1999 should be implemented;

the introduction of specialist courts either for child sexual exploitation cases or for sexual offences as a whole; and

the Lord Chief Justice should recommend specific training on child sexual exploitation cases to be developed and provided to the Judicial College.
The police, social services and the Crown Prosecution Service must all bear responsibility for the way in which vulnerable children have been left unprotected by the system.
Find similar publications here: