Charity Commission: The Cup Trust And Tax Avoidance
HC 138, Seventh Report of Session 2013-14 - Report, Together with Formal Minutes, Oral and Written Evidence
Author:

House of Commons - Committee of Public Accounts

Publisher:

TSO (The Stationery Office)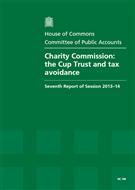 Add to Basket
'Charity Commission: The Cup Trust And Tax Avoidance (HC 138)' examines the Cup Trust and the Charity Commission's procedures for regulating charities.
The Charity Commission registered the Cup Trust as a charity in April 2009 with a company called Mountstar, based in the British Virgin Islands, as its only trustee. Although the Trust generated income of £176 million, only £55,000 has been given to charitable causes, and the Cup Trust claimed Gift Aid of £46 million.
Despite its declared charitable aims it is clear that the Trust was set up as a tax avoidance scheme by people known to be in the business of tax avoidance. The Trust does not meet the public expectations of a charity and it is unacceptable that the Commission has not been able to put a stop to this abuse of charitable status.
The Commission began to investigate the Trust in March 2010 following concerns raised about its governance and fundraising. This investigation closed in March 2012. The Commission eventually concluded that it could not de-register the Trust as it was 'legally structured as a charity', despite not being for exclusively charitable purposes.
During the past 25 years the Committee and the National Audit Office have repeatedly found severe shortcomings in the Commission's performance, particularly in relation to investigation and enforcement. The Commission hardly makes use of its statutory powers, nor is it targeting its available resources to best effect.
The Commission has not yet brought forward proposals to change the law to exclude organisations like the Cup Trust from the register.
Find similar publications here: