Anti-social Behaviour, Crime And Policing Bill
HCB 7
Publisher:

TSO (The Stationery Office)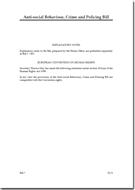 Add to Basket
'Anti-social Behaviour, Crime And Policing Bill (HCB 7)' sets out the Government's plans to replace almost 20 existing powers that deal with anti-social behavior, with just six. The rights of victims will be the focus with quick action taken to deal with persistent anti-social behaviour.
The bill includes the new 'community trigger' system, whereby police, councils and agencies would be forced to act if five households made a complaint about an instance of anti-social behaviour.
There will also be a 'community remedy', which provides a greater say for victims in what form of sanction an offender can receive out of court.
Other main elements of the crime bill include:
a breach of the forced marriage protection order to be criminalised;

a dog attack on an assistance dog to become an aggravated offence;

the offence of owning or being in charge of a dog that is out of control in public to be extended to private places; and

the maximum penalty for illegal importation and exportation of firearms to be increased, including the creation of a new offence for possession for sale or transfer.
Police and crime commissioners will be given responsibility for commissioning victims' services and arrangements for British Transport Police firearms officers.
A test of 'clear innocence' will be established to determine those eligible for compensation in miscarriages for justice cases.
Offenders sentenced to custody will also have to contribute to the Victims Surcharge, by removing the power of magistrates to add additional days to a sentence in lieu of payment.
The Extradition Act 2003 will also be amended to implement the recommendations by the former Court of Appeal judge, Sir Scott Baker
Find similar publications here: