HM Revenue And Customs: Tax Credits Error And Fraud
HC 135, Fourth Report of Session 2013-14 - Report, Together with Formal Minutes, Oral and Written Evidence
Author:

House of Commons - Committee of Public Accounts

Publisher:

TSO (The Stationery Office)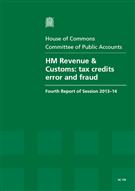 Add to Basket
The report 'HM Revenue And Customs: Tax Credits Error And Fraud (HC 135)' examines the problems of error and fraud on the payment of tax credits by HM Revenue and Customs (HMRC).
HMRC paid £30 billion in tax credits in 2011-12, providing support to nearly six million individuals and families; however, one in five awards contained errors or fraud which resulted in claimants receiving more money than they were entitled to.
The report includes six main conclusions and recommendations:
(i) HMRC has made little progress in reducing the amount of money it loses due to error and fraud in tax credits;
(ii) as it overestimated its progress in tackling error and fraud, a better understanding of HMRC's performance is needed;
(iii) not enough has been done to reduce error and fraud resulting from claimants not reporting their circumstances accurately;
(iv) the advice and guidance given to claimants needs to be improved;
(v) a faster, more effective appeals process should be introduced; and
(vi) HMRC needs to make more effective use of data to prevent and detect errors and fraud.
HMRC's target was to save £8 billion from reducing tax credits error and fraud by 2015, but it will miss this target by £5 billion.