Draft Dangerous Dogs (Amendment) Bill
HC 95, First Report of Session 2013-14: Volume I - Report, Together with Formal Minutes, Oral and Written Evidence
Author:

House of Commons - Environment, Food and Rural Affairs Committee

Publisher:

TSO (The Stationery Office)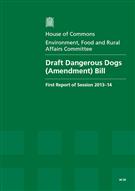 Add to Basket
The report 'Draft Dangerous Dogs (Amendment) Bill (HC 95)' endorses the draft laws to extend dangerous dogs offences to attacks on private property and on assistance dogs; but the Committee also criticise the Government for failing to bring in wider measures, including Dog Control Notices, to tackle out-of-control dogs.
The report backs the proposed amendment to the Dangerous Dogs Act 1991 making attacks on private land the same as attacks on public land. The current law makes it impossible to bring criminal charges against an owner whose dog attacks someone in a private place, such as a home, and enable action to be taken regardless of where a dog attack happens.
The Committee agree with the Government that the protection from prosecution should apply only when an attack takes place on a trespasser in the house, not in a surrounding area such as the garden or drive. However, measures taken by the owner to minimise the likelihood of their dog acting aggressively toward someone unexpectedly, should be taken into account by enforcement agencies and the courts.
The measures announced to extend offences to those committed against an assistance dog, such as a guide dog, in the same way as if the attack were on a person, are welcomed. This reflects the significant consequences such attacks have on the daily lives of people who rely on assistance dogs. The Committee recommends that such offences should be extended to apply to any attack which injures a protected animal, such as a horse or livestock.
Find similar publications here: