Appointment Of Dr Mark Carney As Governor Of The Bank Of England
HC 944, Eighth Report of Session 2012-13 - Report, together with Formal Minutes, Oral and Written Evidence
Author:

House of Commons - Treasury Committee

Publisher:

TSO (The Stationery Office)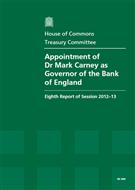 Add to Basket
The Treasury Committee report, 'Appointment of Dr Mark Carney as Governor of the Bank of England (HC 944) follows the pre-commencement hearing held with the next Governor of the Bank of England, Dr Mark Carney, on 7 February 2013. Dr Carney's appearance before the Treasury Select Committee has set an important precedent. No previous Governor of the Bank of England has been subject to such a rigorous pre-commencement hearing.
During the hearing, Dr Carney offered his views on the UK's future monetary policy framework. The Treasury Committee will report its conclusions based in part on Dr Carney's evidence, in its forthcoming Report on the Budget.
With significant structural and cultural change underway, the Bank of England has taken on a wide range of new powers which Dr Carney will be responsible for overseeing.
In evidence to the Committee, Dr Carney set out his preference for a consensus-based approach to leadership; this will be significant if it leads to a meaningful change of culture within the Bank.
The Committee wishes Dr Carney every success for his term as Governor. He will bring a wide range of skills and a great deal of experience to the role.

Find similar publications here:

Show all Subjects & Categories