Blacklisting In Employment: Interim Report
HC 1071, Ninth Report of Session 2012-13 - Report, Together with Formal Minutes
Author:

House of Commons - Scottish Affairs Committee

Publisher:

TSO (The Stationery Office)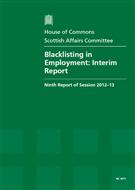 Add to Basket
The report 'Blacklisting in Employment: Interim Report (HC 1071)' examines the blacklisting of construction industry workers by The Consulting Association (TCA), with the involvement of several major construction firms.
Through the TCA, which appears to have been largely established by Sir Robert McAlpine Ltd, with other major subscribers including Skanska and Balfour Beatty, the companies set up a structure which allowed them to submit names and information on workers they deemed to be unsuitable to a central list. Prospective employees or the employees of subcontractors were then checked against this list for their suitability for employment.
The list could include employees who had raised legitimate grievances over health and safety or other industrial issues, and whole groups of employees were blacklisted en masse. The emphasis throughout was on secrecy and no acknowledgement that such a system existed.
The Committee's inquiry has so far raised a series of complex questions, particularly about compensation, which the Committee will consider in the next phase of the inquiry. The Committee says the Information Commissioner's Office, which raided TCA in 2009 and ultimately caused it to be closed down, should do more and work with the trade unions to locate and notify people that were on the blacklist, as they cannot begin to seek redress without this information.
Find similar publications here: