The London 2012 Olympic And Paralympic Games: Post-Games Review
HC 812, Fortieth Report of Session 2012-13 - Report, Together with Formal Minutes, Oral and Written Evidence
Author:

House of Commons - Committee of Public Accounts

Publisher:

TSO (The Stationery Office)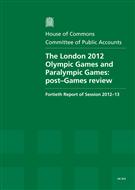 Add to Basket
The report 'The London 2012 Olympic And Paralympic Games: Post-Games Review (HC 812)' concludes that the success of the London 2012 Games demonstrates that it is possible for government departments to work together to deliver complex programmes.
The £9.298 billion Public Sector Funding Package for the Games is set to be underspent; the Department for Culture Media and Sport (DCMS) is committed to reflect on what more it can do to present costs in a way that goes further, and brings out those costs associated with the Games and the legacy that are not covered by the Funding Package.
The notable blemish on planning for the Games was venue security, but also during the Games a large number of accredited seats went unused at events for which the public demand for tickets could not be met. International sports bodies and media organisations wield a lot of power, but the report recommends that their demands should be challenged.
On the wider legacy the Committee look to the Cabinet Office to provide strong leadership to ensure delivery of the longer term benefits. The Government also needs to do all it can to learn and disseminate the lessons learned, and to encourage volunteering opportunities both within sport and beyond.
Find similar publications here: