HM Treasury: Whole Of Government Accounts 2010-11
HC 867, Thirty-seventh Report of Session 1012-13 - Report, Together with Formal Minutes, Oral and Written Evidence
Author:

House of Commons - Committee of Public Accounts

Publisher:

TSO (The Stationery Office)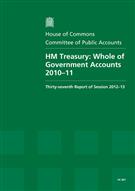 Add to Basket
The report 'HM Treasury: Whole Of Government Accounts 2010-11 (HC 867)' examines the effectiveness of the Whole of Government Accounts (WGA), which provides the most complete picture available of the Government's total finances.
The most recent WGA report (see below) shows that the annual deficit was £94.4 billion in 2010-11, a reduction of £68.3 billion from the £162.7 billion deficit in 2009-10. However, the report finds that the 2010-11 accounts include a gain of £126 billion from an assumed reduction in the public sector pension liability, as a result of the Government's decision to change the measure of inflation used to uprate payments to pensioners from the Retail Price Index to the Consumer Price Index with effect from 1 April 2011. Without this change, the deficit for 2010-11 would have been £220.4 billion.
The report finds that the WGA has potential to help the Treasury to manage the public finances more effectively, but that it does not have a clear plan to realise that potential or improve the quality and timeliness of the WGA to improve its usefulness. More needs to be done to make the accounts easier to understand. Also information sufficient for a detailed analysis by region or by category of spend would make the WGA more useful.
The report concludes that the Treasury could not provide a convincing explanation for the on-going exclusion of organisations such as the Royal Bank of Scotland, Lloyds Banking Group and Network Rail from the WGA which, under normal accounting rules, should be included.
The 2010-11 WGA includes the Bank of England for the first time, but it still does not include all bodies owned and controlled by Government, leading to an accountability gap.
Find similar publications here: