Youth Justice
HC 339, Seventh Report of Session 2012-13 - Volume I: Report, Together with Formal Minutes, Oral and Written Evidence
Author:

House of Commons - Justice Committee

Publisher:

TSO (The Stationery Office)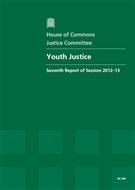 Add to Basket
Public authorities have a duty to ensure looked after children are not at greater risk of being drawn into the criminal justice system than other children; the report 'Youth Justice (HC 339)' looks at how the relevant authorities must continue to support looked after children and care leavers when they are in, and when they leave, custody.
The substantial decrease since 2006-07 in the number of young people entering the criminal justice system for the first time is welcomed, but looked after children have not benefited from this shift to the same extent as other children.
The Youth Justice Board has done excellent work to halve the youth custodial population over the past decade, but continues to spend £246 million a year detaining a small fraction of young offenders.
Recommendations of the report include:
a statutory threshold to legislate the principle that only the most serious and prolific young offenders should be placed in custody;

devolving the custody budget to enable local authorities to invest in effective alternatives to custody; and
more action to reduce the number of young people who breach the terms of their community sentences and the number of young black men in custody.
The aim of improving the basic literacy of offenders, as outlined in the Transforming Youth Custody consultation paper (see below) is endorsed, but the main focus should be on improving the transition between custody and the community, and incentivising schools and colleges to take back difficult students.
Find similar publications here: