The Department For International Development: The Multilateral Aid Review
HC 660, Twenty-sixth Report of Session 2012-13 - Report, Together with Formal Minutes, Oral and Written Evidence
Author:

House of Commons - Committee of Public Accounts

Publisher:

TSO (The Stationery Office)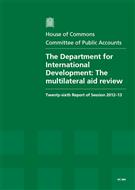 Add to Basket
Multilateral organisations can play a very valuable role in development, often operating in politically sensitive areas to offer economies of scale, broker international agreements and set international standards; 'The Department For International Development: The Multilateral Aid Review (HC 660)' examines how almost half of the total aid budget for core funding is paid to multilateral organisations to deliver these objectives, amounting to £3.6 billion in 2011-12.
The Department published a Multilateral Aid Review (the Review) in March 2011 which assessed the value for money of 43 multilateral organisations in achieving departmental objectives. Refinements to the Review process will allow the Department to build on its successes and improve the effectiveness of future Reviews; these include pressing multilateral organisations for better data on costs and results, better assessment of gaps and duplication in their activities, and strengthening the link between a multilateral organisation's performance and the Department's funding.
Collaborating with other countries on reform programmes and sharing assessments will help the Department to maximise the impact of the Review process and minimise the administrative burdens on multilateral organisations. The Department's overall budget for international aid will increase by 27% in real terms between 2010-11 and 2014-15.
Public confidence in the value of UK aid depends on the Department demonstrating that the funds are well spent. Better comparisons between the cost-effectiveness of bilateral aid and multilateral aid will allow the Department to determine which approach is best placed to deliver its outcomes.
Find similar publications here: