Nuclear Decommissioning Authority: Managing Risk At Sellafield
HC 746, Twenty-fourth Report of Session 2012-13 - Report, Together with Formal Minutes, Oral and Written Evidence
Author:

House of Commons - Committee of Public Accounts

Publisher:

TSO (The Stationery Office)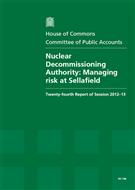 Add to Basket
'Nuclear Decommissioning Authority: Managing Risk At Sellafield (HC 746)' examines the work of the Nuclear Decommissioning Authority (the Authority) which was set up in 2005 with the specific remit to tackle the UK's nuclear legacy; and confirms that the Authority believes it now has a credible plan for decommissioning Sellafield.
Sellafield is run for the Authority by Sellafield Limited; in November 2008, the Authority contracted with an international consortium, Nuclear Management Partners Limited, to improve Sellafield Limited's management of the site, including the development of an improved lifetime plan; Sellafield Limited are due to start retrieving hazardous waste currently held in legacy facilities in 2015.
Over several decades, successive governments have been guilty of failing to tackle issues on the site. Deadlines for cleaning up Sellafield have been missed, while total lifetime costs for decommissioning the site continue to rise each year and now stand at £67.5 billion.
Basic project management failings continue to cause delays and increase costs, while doubts remain over the robustness of the plan, in particular whether the Authority is progressing the development of the geological disposal facility as quickly as possible.
The Committee also remain unconvinced that taxpayers are getting a good deal from the Authority's arrangement with Nuclear Management Partners. Taxpayers currently bear the financial risks of delays and cost increases.
Find similar publications here: