The Committee's Response to Government's Consultation on Permitted Development Rights for Homeowners
HC 830, Seventh Report of Session 2012-13 - Report, Together with Formal Minutes
Author:

House of Commons - Communities and Local Government Committee

Publisher:

TSO (The Stationery Office)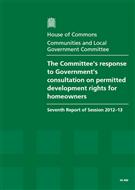 Add to Basket
'The Committee's Response to Government's Consultation on Permitted Development Rights for Homeowners (HC 830)' warns that the Government's plans to extend planning permission exemptions are based on an inadequate impact assessment. The report responds to the Government's consultation on permitted development rights for homeowners, published on 12 November.
The Government's proposals would double the exemption for planning permission of extensions for certain kinds of housing; over a period of three years, the size limits for the depth of single-storey extensions for detached houses would increase from four meters, to eight meters, and from three meters to six meters for all other houses in non-protected areas. The Committee found the Government's rationale for these changes unconvincing and asked it to reconsider.
The Committee also has concerns that the proposals ignore current sustainable development policy, failing to consider the social and environmental effects as set out in the National Policy Planning Framework.
Find similar publications here: