Mr Denis MacShane
HC 635, Second Report of Session 2012-13 - Report, Together with Formal Minutes, Oral and Written Evidence
Author:

House of Commons - Committee on Standards and Privileges

Publisher:

TSO (The Stationery Office)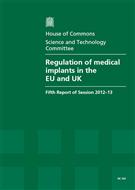 Add to Basket
The report 'Mr Denis MacShane (HC 635)' deals with matters arising from a complaint against Right Honorable Denis MacShane made on 29 June 2008, relating to expense claims made between 2005 and 2008.
The Committee agreed that the conduct of Mr MacShane should be reported to the Metropolitan Police, though the police decided as a result of their inquiries to take no action.
The report states that this was the gravest case which has come to the Committee for adjudication. It sets out the Committee's views and reasoning clearly, and is accompanied by the detailed memorandum from the Parliamentary Commissioner for Standards, as well as Mr MacShane's response.
The Committee concluded that Mr MacShane was in breach of the Code of Conduct in withdrawing his co-operation by declining at the conclusion of this inquiry to attend an interview and to answer a specific question about his invoices.
He was also in breach of the Green Book rules for the 19 claims he made from 2004-05 to 2007-08, which added up to £12,900, against his incidental expenses provision, and was in further breach of the rules in buying computers between 2004-05 and 2007-08, when the expenditure was not wholly, exclusively and necessarily incurred on parliamentary duties.
Find similar publications here: