Private Investigators
HC 100, Fourth Report of Session 2012-13 - Report, Together with Formal Minutes, Oral and Written Evidence
Author:

Home Affairs Committee

Publisher:

TSO (The Stationery Office)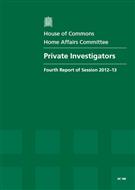 Add to Basket
The report 'Private Investigators (HC 100)' concludes that it is getting easier for anyone to advertise themselves as a private investigator - with modern communications and cheap surveillance devices; and while the industry remains unregulated, a number of serious risks must be explored - concerning the involvement of private investigators in the justice system and law enforcement, and the threat of corruption those links entail.
The Committee recommends that the Government set up a robust licensing and registration system as soon as possible. Private investigators and their companies should be governed by a new Code of Conduct for Private Investigators. Under this system a criminal record for breach of section 55 should disqualify an individual from their operations.
The report also proposes that dealings between police and investigators should be recorded, and that there should be a one year cooling off period between serving as a police officer and entering the investigation industry.
While recognising the honest contribution made by most private investigators, this report highlights the involvement of some private investigators in the illegal market of personal data and calls again on the Government to strengthen the penalties for data offences.
The Independent Police Complaints Commission must also take direct control over investigations in cases alleging police corruption in relation to private investigators.
Find similar publications here: