Park Homes
HC 177-I, First Report of Session 2012-13 - Volume I: Report, Together with Formal Minutes
Author:

House of Commons - Communities and Local Government Committee

Publisher:

TSO (The Stationery Office)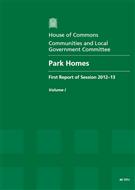 Add to Basket
While it is recognised that there are some good park home site operators, the vast majority of the evidence received suggests that malpractice is widespread across the sector according to the report 'Park Homes (HC 177-I)'.
The most widespread problems identified include:
'sale blocking' - withholding approval of prospective sales, possibly forcing vendors to sell their homes at a reduced price and before selling at a profit;

harassment by site owners;

a licensing regime which allows site owners to breach licence conditions with a maximum fine of only £2,500; and

confusion over contractual obligations which leaves residents with little or no ability to take action if the site is not properly maintained.
The Committee recommends legislation to remove a site owner's existing 'right to approve' buyers. To compensate for this, sellers would have to make buyers aware of their obligations towards a site and its owner in writing before sale transactions take place. Pending this legislation, it is recommended the Residential Property Tribunal are given the power to award damages and compensation to park home owners affected by sale blocking.
New legislation should clarify the obligations of park owners to maintain their sites, outlining the rules which define these obligations, to be deposited with local authorities for enforcement.
If the expected improvements do not happen, then the new legislation must provide a power for the Government to allow local authorities to withdraw and withhold licences from site owners who are not found to be 'fit and proper'.
Find similar publications here: