Effectiveness of the Committee in 2010-12
HC 144, First Report of Session 2012-13 - Report, Together with Formal Minutes
Author:

House of Commons - Home Affairs Committee

Publisher:

TSO (The Stationery Office)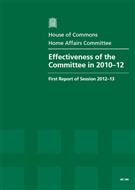 Add to Basket
'Effectiveness of the Committee in 2010-12 (HC 144)' uses a traffic light reporting method to assesses and score the work of the Committee during 2010-12.
Each Committee recommendation is represented by a colour to indicate whether they have been accepted (green), rejected (red), or are still under consideration or development (yellow) by the Government.
The traffic light report is the first of its kind to be used as a benchmark and tool for developing a more strategic approach to scrutiny, which will improve the Committee's ability to hold the Home Office to account.
This method of reporting will be used as the basis for the systematic follow-up of recommendations over the rest of Parliament.


Show all Subjects & Categories