South Sudan: Prospects for Peace and Development
HC 1570, Fifteenth Report of Session 2010-12 - Volume I: Report, Together with Formal Minutes, Oral and Written Evidence
Author:

House of Commons - International Development Committee

Publisher:

TSO (The Stationery Office)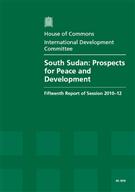 Add to Basket
The report 'South Sudan: Prospects for Peace and Development (HC 1570)' details the daunting challenges faced by the new South Sudan government with some of the worst social indicators globally.
The Republic of South Sudan gained independence from the Republic of Sudan on 9 July 2011, following civil wars that began in 1955 and left more than two million dead.
The Department for International Development (DFID) has quickly established and scaled up a full office in Juba and developed a four-year development and humanitarian aid programme amounting to some £360 million making South Sudan one of the largest recipients of UK bilateral aid. Regrettably, the delivery of DFID's programme is already at risk before it has properly begun with the humanitarian crisis created by the loss of South Sudan's oil revenue, combined with the increasing number of returnees and refugees arriving in the country and ongoing inter-tribal violence.
The South Sudan government has introduced austerity measures to cope with the loss of 98% of its income but the UK and other donors cannot bankroll South Sudan through this austerity period. DFID has already refocused its development programmes away from long-term development towards supporting the most vulnerable people and saving lives.
Overall, the Committee believes that DFID's programme is diverse and challenging, although it is too early to judge its success. There have been well-documented difficulties with both World Bank and United Nations administered pooled funds in South Sudan and there is concern at directing aid through them. The emphasis that DFID gives to the equality of girls and women in its programme is welcomed and despite the pressures and uncertainties this should be maintained.

Find similar publications here:

Show all Subjects & Categories