Treaty on Stability, Coordination and Governance: Impact on the Eurozone and the Rule of Law
HC 1817, Sixty-second Report of Session 2010-12 - Volume I: Report, Together with Formal Minutes, Oral and Written Evidence
Author:

House of Commons - European Scrutiny Committee

Publisher:

TSO (The Stationery Office)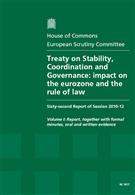 Add to Basket
In the report 'Treaty on Stability, Coordination and Governance: Impact on the Eurozone and the Rule of Law (HC 1817)' the European Scrutiny Committee states that a Stability, Coordination and Governance Treaty (SCG) is not viable to enforce and there are serious concerns over the rule of law, with no concessions for the UK. The Committee also views the SCG Treaty as doing little towards solving the eurozone crisis, except providing some comfort to international markets.
On 2 March 2012, 25 Member States signed the non-EU intergovernmental SCG Treaty to strengthen the eurozone fiscal and economic discipline. However, the Committee finds that the Treaty may prove to be politically impossible to enforce and some form of breakdown of the eurozone clearly remains possible.
The approach taken to proceed with the fiscal compact raises a fundamental question about the application of the rule of law within the EU. The SCG Treaty would have been an EU treaty but for the veto. However, the EU institutions and the governments of the 25 Member States who have signed the Treaty, have embarked on a dangerous precedent in seeking to attain their political objectives irrespective of the rule of law in the EU. The Government has made clear that it has serious reservations about the legality of what has been done, but the question of what it intends to do remains unsatisfactorily unresolved.
When looking at the unprecedented letter sent from the UK Ambassador to the EU, Sir John Cunliffe, to the Secretary-General of the Council on 22 February, it appears that the Government does not want to stand in the way of 25 States reinforcing the eurozone. The Government however, sees the use of the institutions outside the EU Treaties, without the consent of all 27 Member States, as unlawful, irrespective of the consequences to and the lack of concessions for the United Kingdom and the current failure to take the issue of legality further. To the Committee it therefore seems that the SCG Treaty must be deemed unlawful in the Government's view.
Although questions have been raised as to what the UK achieved by the use of its veto, the Committee concludes that the veto was justified because of the very real concerns about a breach of EU law, even if this was not the reason given exclusively for the use of the veto in the first place.
The Committee notes that there is an increasing tendency for the EU to propound the virtues of the rule of law but not to apply it in practice.

Find similar publications here: