Presumption of Death
HC 1663, Twelfth Report of Session 2010-12 - Report, Together with Formal Minutes, Oral and Written Evidence
Author:

House of Commons - Justice Committee

Publisher:

TSO (The Stationery Office)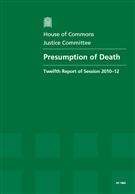 Add to Basket
'Presumption of Death (HC 1663)' covers the law and processes relating to presumption of death. When a person goes missing their family can suffer serious financial repercussions, as well as inevitable pain and distress.
From their investigation the Committee has found that such suffering is exacerbated by: a legislative patchwork of bewildering complexity; the inability to administer the financial situation of their missing relatives; a lack of information about the actions they are able to take; and ignorance of the correct procedures to be followed by police, lawyers, banks, insurers and others.
This report puts forward a threefold recommended approach:
Firstly, the introduction of a presumption of death act to clarify the legal position. Such an act should be modelled on the legislation in Scotland and Northern Ireland. Presumption of death orders, however, can only solve some of the problems families face. It will only be appropriate to declare a missing person dead several years after their disappearance. In that time, their financial affairs can be devastated beyond hope of recovery.

The Committee also therefore recommends that legislation be introduced to allow for a system of guardianship orders, similar to those in Australia. These will allow for the administration of the missing person's property in his or her best interests if they have not returned after three months, as well as support for dependents.

Finally, they call on the Government and industry to provide effective guidance for families in very difficult and distressing circumstances, as well as those who provide services for them.

Find similar publications here:

Show all Subjects & Categories