Are Biofuels Sustainable?
HC 76-I, First Report of Session 2007-08 – Volume I: Report, Together with Formal Minutes
Author:

House of Commons – Environmental Audit Committee

Publisher:

TSO (The Stationery Office)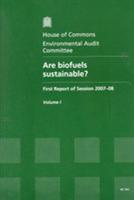 Add to Basket
Biofuels can reduce greenhouse gas emissions from road transport but most first generation biofuels have a detrimental impact on the environment overall. In addition, most biofuels are often not an effective use of bioenergy resources, in terms either of cutting greenhouse gas emissions or value-for-money. The Government must ensure that its biofuels policy balances greenhouse gas emission cuts with wider environmental impacts so that biofuels are only used where they contribute to sustainable emissions reductions.
The Government and EU's neglect of biomass and other more effective policies to reduce emissions in favour of biofuels is misguided. The current policy and support framework must be changed to ensure that sustainable bioenergy resources maximise their potential to generate energy for the lowest possible greenhouse gas emissions. In general, biofuels produced from conventional crops should no longer receive support from the Government. Instead the Government should concentrate on the development of more efficient biofuel technologies that might have a sustainable role in the future.
The Government should seek to ensure that EU policy changes to reflect the concerns raised in this report. This means implementing a moratorium on current targets until technology improves, robust mechanisms to prevent damaging land use change are developed, and international sustainability standards are agreed. Only then might biofuels have a role to play. In the meantime, other more effective ways of cutting emissions from road transport should be pursued. It will take considerable courage for the Government and EU to admit that the current policy arrangements for biofuels are inappropriate. The policy realignments that are required will be a test of the Government's commitment to moving the UK towards a sustainable low carbon economy.
The accompanying 'Are Biofuels Sustainable? – Volume II: Oral and Written Evidence (76-II)' (ISBN 0215038169) is available to purchase separately, see below.
Find similar publications here: