Galileo: Recent Developments
HC 53, First Report of Session 2007-08 (Incorporating HC 1055, Session 2006-07) – Report, Together with Formal Minutes, Oral and Written Evidence
Author:

House of Commons – Transport Committee

Publisher:

TSO (The Stationery Office)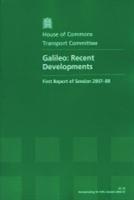 Add to Basket
Developed as an alternative to the American and Russian military systems, the Galileo programme is an independent European navigation satellite system designed specifically for civilian applications, primarily funded and controlled by the European Union and the European Space Agency. Galileo has potential uses across many sectors though transport applications such as road and rail traffic monitoring, road pricing systems and air traffic control have been considered key areas of benefit.
An earlier Committee report on the topic ('Galileo (HC 1210)' – ISBN 0215020553, available below), published in November 2004, recognised the potential benefits of the programme for the UK and Europe but raised concerns over its cost and funding sustainability unless rigorous cost-benefit analyses were undertaken. The programme is currently in its development phase, with the second of two experiemental satellites due to be launched at the end of 2007. It is not expected to be fully operational until 2013-14 (originally this phase was meant to have commenced in 2008) and until Galileo becomes operational, Europe is largely reliant on the American and Russian systems.
'Galileo: Recent Developments (HC 53)' examines the costs, funding, and value for money of the programme, including the delays encountered, the UK share of costs, the collapse of the public-private partnership (PPP) negotiations, and the governance and procurement strategy. It also considers the impact of the complexity of the EU decision-making process on the programme's future funding and management.
Find similar publications here: