Europe Moves East: The Impact of the 'New' EU Member States on UK Business
HC 592, Eleventh Report of Session 2006-07 – Report, Together with Formal Minutes, Oral and Written Evidence
Author:

House of Commons – Trade and Industry Committee

Publisher:

TSO (The Stationery Office)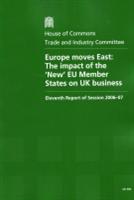 Add to Basket
In May 2004 the fifth enlargement of the European Union (EU) saw the accession of eight Central and Eastern European states – the 'A8' countries of the Czech Republic, Estonia, Hungary, Latvia, Lithuania, Poland, Slovakia, and Slovenia – with Cyprus and Malta joining at the same time. This was the largest expansion in the EU's history, adding ten member states and 75 million people. In January 2007 the accession of Bulgaria and Romania – the 'A2' countries – added a further 30 million people.
'Europe Moves East: The Impact of the 'New' EU Member States on UK Business (HC 592)' examines the impact on UK business of the accession of the 'A8' and 'A2' countries, following on from two previous inquiries ('Industrial and Trade Relations with Central Europe (HC 893)' – ISBN 0105550787, and 'Industrial and Trade Relations with the Baltic States (HC 835)' – ISBN 0102524009, see below).
The report concludes that the EU accession of these countries has been beneficial to the UK economy and business, chiefly through the plugging of gaps in the UK labour market as well as through increased opportunities for exports and investment. However, these benefits could be greater if businesses were better informed about the resulting opportunities and the Government should consider what it can do to reduce the 'fear factor' of investing outside UK businesses' comfort zones, particularly in the new member states which are accessible to small and medium-sized companies. The Committee also highlights the importance of improving the skills base of the domestic workforce if UK business wishes to remain globally competitive.
Find similar publications here: