Globalisation: Prospects and Policy Responses
HC 90, Fourteenth Report of Session 2006-07 – Report, Together with Formal Minutes, Oral and Written Evidence
Author:

House of Commons – Treasury Committee

Publisher:

TSO (The Stationery Office)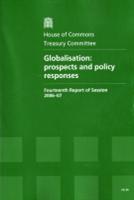 Add to Basket
Globalisation is having an enormous impact on the UK's economy, creating significant challenges for policy-making with the shift in economic power from West to East, particularly the rise of China and India in the global economy. The effects will be felt on highly skilled jobs, as well as on some less skilled employment, and public policy needs to respond to the likely implications for the labour market.
The Committee's report considers domestic policy challenges relating to the promotion of innovation and improving the business environment and the skills base in the economy. Issues discussed include the drivers of globalisation, trade and protectionism, global imbalances, and the beneficial and adverse effects of globalisation for the UK economy. The Committee recommends that in order to promote understanding of the impact of globalisation on jobs and communities, the Government should publish an annual review of new developments affecting the impact of and prospects for globalisation.
Given that protectionist sentiment is increasing, posing a threat to the progress of both developed and developing countries, the Committee supports the Government's promotion of a successful conclusion to the Doha trade round. Globalisation is also threatened by the risk of a disorderly unwinding of global imbalances and the success of a reformed International Monetary Fund (IMF) will be judged by its performance in ensuring global imbalances are properly addressed.
Find similar publications here: