The Monetary Policy Committee of the Bank of England: Ten Years On
HC 299-I, Twelfth Report of Session 2006-07 – Volume I: Report, Together with Formal Minutes, Oral and Written Evidence
Author:

House of Commons – Treasury Committee

Publisher:

TSO (The Stationery Office)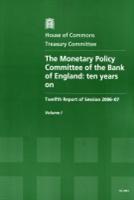 Add to Basket
The contribution of the Monetary Policy Committee (MPC) of the Bank of England over the last ten years to the goal of maintaining a low inflation environment in the UK has been significant. The monetary policy framework has also been broadly successful, however evidence suggests that the economic environment in which the MPC operates in future might not be as benign as in the last decade.
In this report, 'The Monetary Policy Committe of the Bank of England: Ten Years On (HC 299-I)', the Committee expresses concern at the lack of understanding of monetary policy by the general public, especially given this potential for a less benign economic environment ahead. No recommendations are made for changes to the mandate or size of the MPC, nor to the policy instruments at its disposal.
Recommendations include:
a single term for 'external' members of the MPC of up to six years with no reappointment;

the creation of a confidential pool of candidates that can be drawn from at short notice to prevent delays in appointing 'external' MPC members;

the positions of the Governor and of the two Deputy Governors should be recruited by open advertisement as well as confidential search;

changes to enhance the transparency of the MPC with publication of a record of the votes of each MPC member after decisions are released; and

further work on improving the public's understanding of monetary policy.
The accompanying 'The Monetary Policy Committee of the Bank of England: Ten Years On – Volume II: Written Evidence (HC 299-II)' (ISBN 0215032616) is available to buy separately, see below.
Find similar publications here: