Private Equity
HC 567-I, Tenth Report of Session 2006-07 – Volume I: Report, Together with Formal Minutes
Author:

House of Commons – Treasury Committee

Publisher:

TSO (The Stationery Office)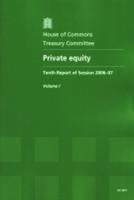 Add to Basket
The private equity industry is of growing importance; 8% of the UK workforce is now employed in private equity owned companies and there are a rising number of take-overs of large companies. 'Private Equity (HC 567-I)' looks at the highly leveraged management buy-in and buy-out sector, whilst the larger issue of the impact of the sector on the UK economy will be addressed in a later report. It examines the respective advantages of the private equity and PLC (public limited company) model and concludes there are benefits and disadvantages in both.
However, there is debate as to how much of the profit of large-scale takeovers is attributable to financial engineering rather than value creation. There is also the question of why major investors have different requirements for PLCs and private equity owned companies. The higher the leverage of a takeover, the greater the risk and the Committee invite the Bank of England to research the likely impact of an economic downturn, and the Financial Services Authority (FSA) to seek assurances that the banking system is the appropriate system to manage the risks.
The accompanying 'Private Equity – Volume II: Oral and Written Evidence (HC 567-II)' (ISBN 0215036107) is available to buy separately, see below.
Find similar publications here: