Recent Developments with Airbus
HC 427-I, Ninth Report of Session 2006-07 – Volume I: Report, Together with Formal Minutes
Author:

House of Commons – Trade and Insustry Committee

Publisher:

TSO (The Stationery Office)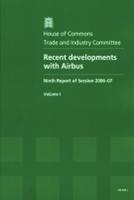 Add to Basket
The aircraft manufacturer Airbus was established in 1970 by the French, German and UK governments (with the Spanish government joining a year later) in order to develop a coordinated and collaborative European response to the dominance of the global civil aviation market by American companies. Since October 2006, following the decision by BAE Systems to sell its stake in the company, Airbus has been wholly owned by EADS (a joint venture between its French, German and Spanish parent companies).
'Recent Developments with Airbus (HC 427-I)' examines recent challenges faced by Airbus, including reduced competitiveness as a result of the weak US dollar, delays and cost overruns in its flagship A380 aircraft, its restructuring programme, and the financing of the A350 XWB project. It also looks at the future role for the UK Government and the Regional Development Agencies, the implementation of the UK's National Aerospace Technology Strategy, and the impact of the current World Trade Organization (WTO) dispute between the US and the European Union (EU) over government subsidies.
Given the fact that the sale of BAE's stake in the company has left the UK without a significant shareholding in Airbus, the Committee commends the work of Airbus UK and the Government in securing part of the work share in the new A350 XWB project. It also finds that whilst the 1,509 UK job losses caused by the company's restructuring are regrettable, this figure represents a fair allocation of the 10,000 redundancies across the company.
Looking forward, the Committee expresses its hope that European governments do not engage in potentially wasteful competition between partner countries on overlapping research and technology support, but rather seek to develop a coordinated approach that ensures the long-term competitiveness of Airbus in relation to its American rival, Boeing. It also notes its support for the EU in its WTO case against the US, noting the very high level of domestic subsidy Boeing receives as well as the support it receives from other countries, particularly from Japan.
Find similar publications here: