Transport for the London 2012 Olympic and Paralympic Games: The Draft Transport Plan
HC 199, Third Report of Session 2006-07 – Report, Together with Formal Minutes, Oral and Written Evidence
Author:

House of Commons – Transport Committee

Publisher:

TSO (The Stationery Office)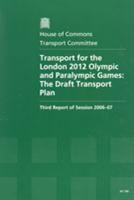 Add to Basket
The Committee published a report into transport planning issues relating to the London 2012 Olympic and Paralympic Games (HCP 588-1, ISBN 9780215027900, available below) in March 2006, highlighting a number of concerns. The Olympic Delivery Authority, the body which has primary responsibility for the development of infrastructure for the Games, published a consultation draft of the Olympic Transport Plan in October 2006, with an expected publication date for the Plan in Summer 2007. The Authority intends to revise the Plan further in 2009, in light of experiences at the Beijing Games in 2008, with the final version emerging in 2010 or early 2011.
The Committee's report finds that, although a significant amount of work has been done on transport planning matters, concerns still remain that the delivery plans across most of the transport modes are vague, and the ODA is not exhibiting any sense of urgency about producing more detailed plans. Key issues of concern highlighted include:
the need for robust contingency planning to be at the heart of the Olympic Transport Plan;

the reliability of modelling assumptions for road traffic levels to avoid congestion on the Olympic Route network;

the lack of detailed plans for using the waterways network; and

the need for the Transport Plan to deliver a lasting transport legacy when the Games are over.