Fire and Rescue Service Operational Guidance - Aircraft Incidents
Author:

Department for Communities and Local Government

Publisher:

TSO (The Stationery Office)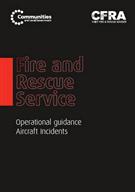 Add to Basket
The Fire and Rescue Service Operational Guidance - Aircraft Incidents provides a consistent approach that forms the basis for common operational practices. It supports interoperability between fire and rescue services, other emergency responders, the aviation industry and other groups.
This guidance covers a wide range of incident types that Fire and Rescue Services are likely to encounter in relation to aircraft. It is applicable to any event regardless of scale, from small incidents, such as an accident involving a microlight, to a large incident involving a civil aircraft (e.g. Airbus A380) resulting in a large scale major incident. It covers the time period from the receipt of the first emergency call to the closure of the incident by the Fire and Rescue Service Incident Commander. Whilst this guidance may be of use to a number of other agencies, it is mainly for the UK Fire and Rescue Service.
In addition to detailed tactical and technical information it also outlines the key operational and strategic responsibilities and considerations that need to be taken into account to enable the Fire and Rescue Service to train, test intervention strategies and plan to ensure effective response at an aircraft incident.
Find similar publications here: