IT Tools for the Business when the Business is IT
Selecting and Implementing Service Management Tools
Author:

Robert Falkowitz

Publisher:

TSO (The Stationery Office)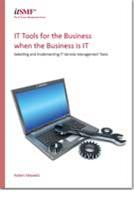 Add to Basket
Very little has been written on the practices that should be adopted when selecting and implementing software tools and most of it is from the perspective of the processes that these tools support.Although recommendations for specific products in the marketplace abound, there is little, specific guidance as to why specific IT service management tools should be chosen, how to perform their selection and implementation and what pitfalls should be avoided.
'IT Tools for the Business when the Business is IT - Selecting and Implementing Service Management Tools' examines the specific nature of ITSM tools, including the full range of tools to support the management of IT services. It also explores the specifics of the architectures that underpin the selection and use of service management tools. These specifics include the strategies and processes representing the (IT) business architecture, the architecture of the data classes managed by the tools and the architectural landscape of service management tools. It follows with a detailed examination of the activities leading to the selection and the implementation of a tool.
Contents:
Part 1: The Purpose and Value of Tools:

What can we expect from ITSM tools?

Part 2: Towards an Architecture of IT Service Management Systems:

Towards an ITSM Business Architecture; towards an ITSM Data Architecture; the ITSM Tools Landscape; Service Management Capabilities and ITSM Tools

Part 3: Selecting ITSM Tools:

Overview of ITSM Tools Selection; define the Goals and Objectives; define detailed requirements; buy or build?; define the long list; request information; evaluate responses; shorten the vendor list; request proposals; evaluate proposals; select the final contenders; prove the concept; select the provisional solution; negotiate terms and conditions; acquire the solution

Part 4: Implementing Service Management Tools:

Overview of Tool Implementation; determining the approach to implementation; designing, building and implementing the solution; train the stakeholders; deploy the solution

Part 5: Postscript: Tools Throughout their Life-cycles

Part 6: Appendixes:

Roles and Responsibilities; Costs of Tools; Conceptual Data Models; Request for Information templates Request for Proposal templates; Scenarios for a Tool Demonstration; Agenda for a Reference Site Visit; Glossary; Acronyms;
Downloadable Complementary Files
As a complementary product, the data models, process flows, RFI & RFP templates and a project plan template will be downloadable in industry-standard, reusable formats.
Find similar publications here: