The Building Regulations 2010: Approved Document F
Ventilation
Author:

TSO (The Stationery Office)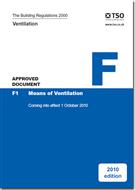 Add to Basket
Approved Document F: Ventilation has been revised to maintain indoor air quality and avoid adverse health effects that could otherwise have occurred due to the greater tendency to have more airtight buildings.
This Approved Document F (2010) came into force October 2010 in support of the Building Regulations 2010.
The Approved Documents provide technical guidance on ways of complying with the Building Regulations; They are continuously revised in line with new legislations. Therefore, it is essential to keep fully updates with the latest editions and amendments.
TSO Approved Documents are produced under licence from the Crown using content issued by CLG.

Find similar publications here:

Show all Subjects & Categories