Good Practice Manual
Small to Medium Sized Businesses
Author:

Investors in People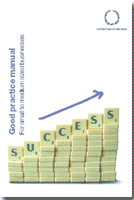 Add to Basket
This manual provides a framework to help businesses manage and develop their most important resource – people.
Designed for small to medium sized businesses, the manual is a revolutionary tool providing clear guidance and practical steps for improvement. It is also a diagnostic tool to help analyse business practice and performance.
In line with the needs of pressured SME managers, this publication is designed to help plan, prepare for and move towards Investors in People recognition. Crucially, it also serves the needs of recognised organisations with ambitious people strategies and management initiatives.
In order to meet the needs of all potential users, the manual is both expert and user-friendly. It reflects current business conditions and organisational pressures that business owners and managers face.
Key features:
The manual has a unique indicator ratings grid, an invaluable tool to identify how well a business is performing in key areas, including 'Strategic Business Planning' and 'Communication'.
Click here to download the 'Good Practice Manual: Small to Medium Sized Businesses' Contents pages.


Show all Subjects & Categories