PSA Schedule of Rates for Electrical Services 2006
Fifth Edition
Author:

Carillion

Publisher:

TSO (The Stationery Office)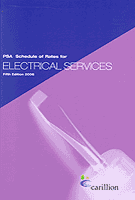 Add to Basket
'PSA Schedule of Rates for Electrical Services 2006 - Fifth Edition' provides a price guide to tendering for all aspects of electrical work, including jobs such as:
the installation of fire alarms and public address systems;

and the provision of aviation and ground lighting. It also includes rates for testing and inspection.
This new 2006 edition has been completely updated. It will be of interest both for contractors who can use it as a basis for making a quotation, and for clients in judging the fairness of a supplied quote.

Related titles:
Find similar publications here:

Show all Subjects & Categories