Updates to Manual of Contract Documents for Highway Works (MCDHW): Volume 1
Specification for Highway Works - Amendment December 2014
Author:

The Highways Agency

Publisher:

TSO (The Stationery Office)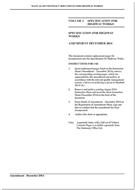 Add to Basket
This document contains replacement pages for incorporation into the Specification for Highway Works.
This update contains:
MCDHW Volume 1 Amendments/Instructions

MCDHW Volume 1 Series 000 Introduction

MCDHW Volume 1 Series 100 Preliminaries

MCDHW Volume 1 Series 1700 Structural Concrete

MCDHW Volume 1 Appendix F
MCDHW consists of several parts which include the administrative procedures for its use, the Specification for Highways Works and its corresponding method measurement. It incorporates the requirements of the European Commission which are mandatory for all Public Procurement Bodies.
Volume 1 contains the requirements and approvals procedures for work, goods or materials used in the construction, improvement or maintenance of the Trunk Road network.
Find similar publications here: