Police and Criminal Evidence Act 1984: Codes H
Revised Code of Practice for the Detention, Treatment and Questioning of Persons by Police Officers Revised Edition, August 2018
Author:

Great Britain Home Office

Publisher:

TSO (The Stationery Office)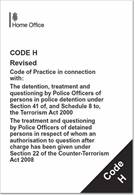 Add to Basket
The Police and Criminal Evidence Act (PACE) and its Codes of Practice are a vital part of the legislative framework that lays out police powers for combating crime while protecting the rights of the public.
PACE sets out to strike the right balance between the powers of the police and the rights and freedoms of the public. Maintaining that balance is a central element of PACE. The PACE codes of practice cover, stop and search, arrest, detention, investigation, identification, interviewing detainees.
PACE Code H sets out the requirements for the detention, treatment and questioning of suspects related to terrorism in police custody by police officers.
These Codes have effect from 31 July 2018.
Find similar publications here: