Code of Practice for the Video Recording with Sound of Interviews of Persons Detained under the Terrorism Act 2000
Under section 41 of, or Schedule 7 to, the Terrorism Act 2000 and post-charge questioning of persons authorised under sections 22 or 23 of the Counter-Terrorism Act 2008
Author:

Home Office

Publisher:

TSO (The Stationery Office)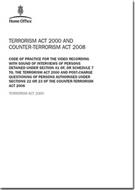 Add to Basket
This Code of Practice became legally effective on 10 July 2012. It reflects a recommendation in the government's review of counter-terrorism and security powers, published in January 2011.
The review recommended that the provisions contained in the Counter-Terrorism Act 2008, which will enable the post-charge questioning of terrorist suspects, should be commenced. The Act requires any post-charge interviews of suspects to be video recorded with sound. As an additional safeguard, interviews conducted pre-charge, under section 41 of the Terrorism Act 2000, should also be video-recorded, as should interviews under Schedule 7 to that Act (where they are conducted at a police station).
The Act requires a Code of Practice to be issued to provide guidance on such recording. It also provides that the relevant PACE codes of practice must make provision for post-charge questioning.
This Code of Practice must be readily available at all police stations for consultation by police officers, police staff, detained persons and members of the public.
Find similar publications here: