Code of Practice for the exercise of Stop and Search Powers
(England, Wales and Scotland) under sections 43 and 43A of the Terrorism Act 2000 and The Authorisation and Exercise of Stop and Search Powers Relating to section 47A of, and Schedule 6B to, the Terrorism Act 2000
Author:

Home Office

Publisher:

TSO (The Stationery Office)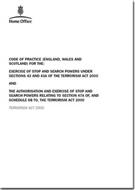 Add to Basket
This Code of Practice for England, Wales and Scotland covers the exercise of Stop and Search Powers under sections 43 and 43A of the Terrorism Act 2000, and the authorisation and exercise of stop and search powers relating to section 47A of, and schedule 6B to, the Terrorism Act 2000, which became legally effective on Tuesday 10 July 2012.
The Code of Practice reflects a recommendation in the government's review of counter-terrorism and security powers, published in January 2011. The review recommended that Stop and Search Powers under sections 44-47 of the Terrorism Act 2000, which allowed police officers to stop and search persons without any reasonable suspicion that the person was a terrorist, should be repealed and replaced with a more focused power.
This recommendation was based on the government's commitment to introduce safeguards against the misuse of terrorism legislation and in order to bring the powers into line with the European Convention of Human Rights (ECHR), following the European Court of Human Rights ruling in the case of Gillan and Quinton v United Kingdom.
The recommendation is implemented by the Protection of Freedoms Act 2012, which also amends the counter-terrorism stop and search powers in the Terrorism Act 2000 which do require reasonable suspicion to enable searches of vehicles or their occupants. The Act requires a Code of Practice to be issued which provides guidance to the police on the exercise of these stop and search powers and of the authorisation of the powers under section 47A of, and Schedule 6B to, the Terrorism Act 2000.
The new stop and search powers, and the statutory framework provided by these codes of practice, represent a much needed rebalancing of powers and enable the police to protect the public whilst ensuring that there are robust safeguards to prevent a return to the previous excessive use of stop and search without suspicion.
Find similar publications here: