Guidance on the Management of the Risk of Heat Stress During Training
Fire Service Manual – Volume 4: Fire Service Training
Author:

HM Fire Service Inspectorate

Publisher:

TSO (The Stationery Office)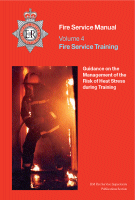 Add to Basket
The statutory obligation on employers to keep employee health risks as low as possible poses a particular challenge for the Fire Service. During training, how can staff experience potentially hazardous situations without putting themselves in any degree of danger? This publication suggests ways of dealing with these conflicting imperatives with regard to one such hazard: physiological heat stress.
The guidance is based on a study of environmental and body temperatures taken during training sessions and takes into the account the many factors that affect heat exposure. Further studies are planned that will allow these guidelines to be refined and expanded.
Key features:
Guidelines meet provisions required under the Management of Health and Safety at Work Regulations 1992

Guidance covers risk assessment of specific activities and training themes

Risks encountered by training staff/instructors are taken into account.
Find similar publications here: