APMP for PRINCE2 Practitioners
Author:

Graham Williams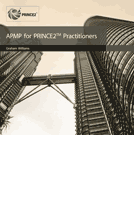 Add to Basket
This study guide, 'APMP for PRINCE2 Practitioners', enables candidates familiar with PRINCE2 to prepare for the APMP exam. It provides APMP exam candidates with a single source of reference material that covers all aspects of the APMP syllabus, including both pre-course and on-course material, whilst aligning it to the PRINCE2 Method. This enables PRINCE2 Practitioners (or project management staff working within a PRINCE2 environment) to expand their project management knowledge to cover all topics within the APMP syllabus.
Key features:
Provides a jargon free explanation of APMP.

Contains chapters covering Planning, Risk Management, Quality Management, Configuration Management, Change Control and Issue Management, Stakeholder Management, Procurement and People Management.
For further information on APM visit www.APM.org.uk
PRINCE2 Exams and Editions
PRINCE2 Foundation and Practitioner exams based on PRINCE2 2009 have been available from 06 July 2009. PRINCE2 exams based on the PRINCE2 2005 edition will continue to run until the end of 2009. Visit PRINCE2 2009 FAQs for more information.
PRINCE2 2009 Edition
There are now two editions for PRINCE2; 'Managing Successful Projects with PRINCE2' is aimed at people who work on projects on a daily basis and 'Directing Successful Projects with PRINCE2' provides a guide for those who direct or sponsor projects, both of which are available below.
Further information:
> 'APMP for PRINCE2 Practitioners' Contents (PDF - 65Kb)
> 'APMP for PRINCE2 Practitioners' Introduction (PDF - 163Kb)
Related resources:
> PRINCE2 2009 Overview Brochure (PDF - 257Kb)
Already read this publication? We'd appreciate your opinion: please review this publication.

Find similar publications here:

Show all Subjects & Categories