ITIL Small-scale Implementation
3rd impression 2007
Author:

Office of Government Commerce (OGC)

Publisher:

TSO (The Stationery Office)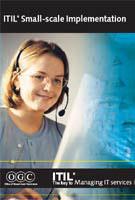 Add to Basket
Adapted to provide sound processes for small organisations, this vital title will help any organisation with a small resource base implement all the key elements of ITIL.
At the same time, it will act as a starting point for larger organisations either those under budget constraints or those who have departmentalised ITIL implementations.
Key feautres:
Supersedes IT Infrastructure Library practices in small IT units (ISBN 0113306741).
Accessible formats: For customers who are visually impaired or have other accessibility needs, this publication is available in other formats. Please contact customer services on +44 (0)870 6005522 for details.