Managing Successful Projects with PRINCE2 CD-ROM 2005
Version 1.3
Author:

Office of Government Commerce (OGC)

Publisher:

TSO (The Stationery Office)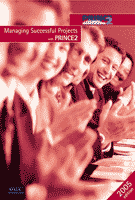 Add to Basket
This publication describes the PRINCE2 project management method which provides detailed guidance on how to set up, organise, manage, control and deliver your projects on time, within budget and to the right quality.
PRINCE2 is an easy to follow structured method suitable for any type of project. The processes and techniques in PRINCE2 will help your project team cope with the risks, challenges and opportunities of today's rapidly changing environment.
Key features:
In this revised edition, consultation with the international user community has ironed out inconsistencies and brought about improvements to product-based planning and the process diagrams.

Through purchasing a network licence, the full text can be downloaded onto your intranet, giving you access and search capacity throughout your organisation. The CD-ROM products are compatible with numerous platforms allowing access to as many users as required across businesses and site. For further details on network licences email digital@tso.co.uk.
PRINCE2 Exams and Editions
PRINCE2 Foundation and Practitioner exams based on PRINCE2 2009 have been available from 06 July 2009. PRINCE2 exams based on the PRINCE2 2005 edition will continue to run until the end of 2009. Visit PRINCE2 2009 FAQs for more information.
PRINCE2 2009 Edition
There are now two editions for PRINCE2; 'Managing Successful Projects with PRINCE2' is aimed at people who work on projects on a daily basis and 'Directing Successful Projects with PRINCE2' provides a guide for those who direct or sponsor projects, both of which are available below.
Further information:
> Changes to the Reference Manual for this revised 2005 edition
Related resources:
> PRINCE2 2009 Overview Brochure (PDF - 257Kb)
Already read this publication? We'd appreciate your opinion: please review this publication.