Software Asset Management Book
7th impression
Author:

Office of Government Commerce (OGC)

Publisher:

TSO (The Stationery Office)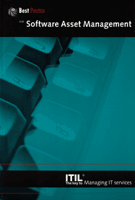 Add to Basket
Software is one of the most critical elements of information and communications technologies and most organisations have huge investments in software, whether internally developed or external procured. However organisations often do not invest commensurate effort into managing these software assets.
This guide has been developed to assist with understanding what Software Asset Management (SAM) is and to explain what is required to perform it effectively and efficiently as identified in industry 'best practice'.
Key features:
These guidelines can be tailored to fit any organisations regardless of size.

Illustrated with various charts and tables to aid in understanding.

Large Appendices enhancing content within the guide including a Terminology section.

Part of the ITIL series of best practice publications.
Accessible formats: For customers who are visually impaired or have other accessibility needs, this publication is available in other formats. Please contact customer services on +44 (0)870 6005522 for details.
Find similar publications here: