Business Perspective Volume 1 Book
2nd impression
Author:

Office of Government Commerce (OGC)

Publisher:

TSO (The Stationery Office)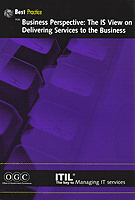 Add to Basket
For IT to bring the greatest possible benefits to a business, IT practitioners must develop a deep understanding of their organisation's key principles and requirements.
Business Perspective Volume 1 performs a vital task. Given that there is absolute dependence of business on IT, it ensures that Best Practice flows from Information Services provision into the organisation as a whole. It will help IS personnel align their activities with the needs of the business in order to deliver the greatest benefits, such as:
Contribution to business objectives.

Developing IT services in line with those objectives.

Assisting the business exploit their IT resource to the maximum.

Helping to build an integrated culture within the business.

Enabling change and innovation for business advantage.
Building on the foundations already laid down in ITIL, this book will be of enormous interest to all IS managers and anyone interested in fully their exploiting IT resource to deliver business benefits.
Key features:
Builds on foundations already laid by ITIL.

Designed to complement Volume 2, which focuses on delivering results against a background of change.
Accessible formats: For customers who are visually impaired or have other accessibility needs, this publication is available in other formats. Please contact customer services on +44 (0)870 6005522 for details.
The Stationery Office (TSO) is offering 25% off this publication. This promotion may not be used in conjunction with any other promotion or discount.