Application Management Book
4th impression
Author:

Office of Government Commerce (OGC)

Publisher:

TSO (The Stationery Office)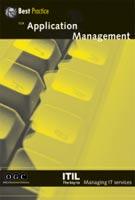 Add to Basket
Application Management embraces the software development life cycle, expanding the issues touched upon in Software Life cycle support and testing of IT Services.
Application Management also provides details on business change with the emphasis being placed on clear requirement definitions and the implementation of solutions to meet business users' needs.
The Stationery Office (TSO) is offering 25% off this publication. This promotion may not be used in conjunction with any other promotion or discount.
Accessible Formats: For customers who are visually impaired or have other accessibility needs, this publication is available in other formats. Please contact customer services on +44 (0)870 600 5522 for details.