In Times of Radical Change
The Business Perspective on your IT Infrastructure
Author:

OGC
[?ProductPublisher:?]
Price:
[?DiscountedPrice:?]
Add to Basket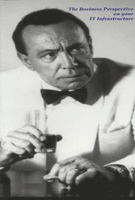 IT is an indispensable asset in modern business enterprises. Most large enterprises have invested considerable sums in an elaborate IT Infrastructure. They have learnt to use IT to support and supplant many information-rich processes within the enterprise. Top managers expect continuous improvement and delivery of business benefit, even as the enterprise's deployment of IT evolves. Therefore, any change involving IT can be classified as a radical change.
This book helps you to deal with IT in pursuit of resolvong your business problems, linking business problems to the enterprises's use and ownership of IT. It will assist the creative thinking process fundamental to matching IT services and business need. Armed with the knowledge in this book, the business manager can play a vital and constructive role in the matching process.