Security Management Book
10th impression
Author:

Office of Government Commerce (OGC)

Publisher:

TSO (The Stationery Office)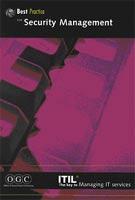 Add to Basket
Information is one of the most important assets for business. Without it only a few processes are able to perform as intended. The sharing of information with other organisations, which enables quick and automated processing, increases that importance.
For information technology (IT), information is the core of its existence. Anything that threatens information or the processing of that information will directly endanger the performance of the organisation. Whether it concerns the confidentiality, accuracy, or timeliness of the information, the availability of processing functions or confidentiality, threats that form risks have to be countered by security. The aspects mentioned are structural for IT. That means that there are structural risks. Structural risks require structural security..
ITIL® provides a foundation for the management of the IT Infrastructure. Security Management is primarily responsibility of the business, with the IT Security Officer responsible for setting Security Policy. This title looks at Security from the service provider standpoint. It defines how Security Management relates to the IT Security Officer and provides the level of security necessary for the provision of the total service to the organisation.
The Stationery Office (TSO) is offering 25% off this publication. This promotion may not be used in conjunction with any other promotion or discount.
Accessible formats: For customers who are visually impaired or have other accessibility needs, this publication is available in other formats. Please contact customer services on +44 (0)870 6005522 for details.