Essence of Care 2010
Benchmarks for Communication
Author:

Department of Health

Publisher:

TSO (The Stationery Office)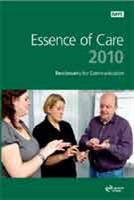 Add to Basket
'Essence of Care' was first introduced in 2001, designed to support and address the fundamentals of care which are still at the heart of its 12 benchmarks. 'Essence of Care' is ideal for frontline staff in health and social care settings.
For the purpose of these benchmarks, communication is defined as: a process that involves a meaningful exchange between at least two people that conveys facts, needs, opinions, thoughts, feelings, or other information through both verbal and non-verbal means including face to face exchanges and written word.
'Essence of Care 2010 - Benchmarks for Communication' provides best practice guidance to ensure people and their carers experience effective communication which takes place at a time and in an environment that is acceptable to all parties.
This title must be read in conjunction with 'How to Use Essence of Care 2010' (please see below). It should also be noted that all the benchmarks are interrelated.
'Essence of Care 2010 - Benchmarks for the Fundamental Aspects Care' which contains all 12 benchmarks and 'How to Use Essence of Care 2010' is also available to purchase (please see below).
Key content:
Interpersonal skills

Opportunity for communication

Assessment of communication needs

Information sharing

Resources to aid communication and understanding

Identification and assessment of principle carer

Co-ordination of care

Empowerment to perform role

Valuing people's and carers' expertise and contribution

People's and/or carers' education needs.
Related titles:
Find similar publications here:

Show all Subjects & Categories