Reference Guide to the Mental Health Act 1983
Author:

Department of Health

Publisher:

TSO (The Stationery Office)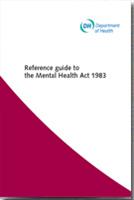 Add to Basket
This Reference Guide is intended as a source of reference for people who want to understand the provisions of the Mental Health Act 1983 (the Act) (ISBN 9780105420835) as it is amended by the Mental Health Act 2007 (ISBN 9780105412076). It replaces the Memorandum on Parts I to VI, VIII and X of the Act last published by the Department of Health and the Welsh Office in 1998.
The aim of this Reference Guide is to set out the main provisions of the Act and the associated secondary legislation as they will stand at 3 November 2008 (which is when the majority of the amendments made by the Mental Health Act 2007 take effect).
It is not intended as a complete description of every aspect of the Act and must not be relied on as a definitive statement of the law. It is not a substitute for consulting the Act itself or for taking legal advice. Guidance on the way the Act should be applied in practice is given in the Mental Health Act 1983: Code of Practice - 2008 Revision (ISBN 9780113228096), available to purchase below.
This Reference Guide is about the Act as it applies in England. There are a number of differences in the way it applies in Wales. This Reference Guide only describes the way the Act applies in Wales where that is directly relevant to its application in England.
Find similar publications here: