Armed Forces (Service Complaints and Financial Assistance) Bill
HLB 3
Author:

House of Lords

Publisher:

TSO (The Stationery Office)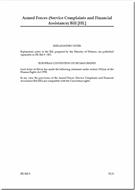 Add to Basket
The Armed Forces (Service Complaints and Financial Assistance) Bill (HL) deals with two matters; reform of the Service complaints system and payments to charities and other organisations which support the armed forces community.
The Service Complaints Commissioner said she could not provide an assurance that the current system was working and was critical of how long it took to resolve complaints; particularly those relating to bullying was also raised, harassment and improper behaviour.
The issue of the level of manpower needed to support the system. The House of Commons Defence Committee, in a report on the work of the Service Complaints Commissioner recommended the creation of an Armed Forces Ombudsman.
The Bill:
makes the legislative changes needed to take forward the Government's proposed reforms;

creates a Service Complaints Ombudsman to replace the existing Service Complaints Commissioner, setting out the framework for the redress of service complaints including who can make a complaint and how complaints will be investigated (both internally within the Armed Forces and, if necessary, by the Ombudsman); and

introduces a reformed and streamlined appeals process and gives the new Ombudsman powers in relation to the complaints system and also includes a power to make payments to charities, benevolent organisations and others for the benefit of the armed forces community.
Find similar publications here: